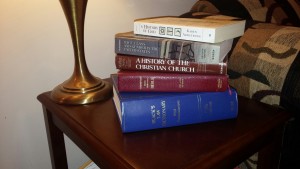 The Advent/Christmas season is one of my favorite times of the year. I love Christmas music, feel-good Christmas T.V. movies, decorations, especially the Tacky Lights Tours where I live and spending time with family and friends. It would be great to think that everyone looks forward to celebrating Christmas, Advent, Hanukkah, the Holiday Season, or whatever season you celebrate during the months of December and January. It would be great to think this, but this isn't the case. Many people are experiencing hard financial times, some people are grieving the loss of loved ones, and some people are just overwhelmed by how commercial the season has become. Whatever the reason is that people find themselves dreading this time of year, the truth is that a lot of people are just not "feeling" the holidays and they are having a hard time finding just the right words to express those feelings.
Often, when we're asked how we feel, our vocabulary is limited to a handful of words and expressions: fine, good, happy, upset, sad, angry, so-so, fair to middlin'. But sometimes these words aren't enough to express what we're really experiencing on the inside of our minds and our hearts. Finding the right words and using the rights words is important when it comes to being healthy. When we have a physical ailment, medical doctors ask us to describe what we're feeling. Where does it hurt? What kind of pain is it? Is it a sharp, stabbing pain? Is it a dull ache? Is the pain isolated to one spot? Does the pain radiate into different parts of your body? Being able to name the pain is important. Mental pain is no less real than physical pain. Mental pain is no less significant than physical pain. And being able to describe that mental pain is an important part in the process of getting better.
The following is a list of descriptive words designed to help you better express how you feel on any given day. The words are divided into categories. Each category is headed by one of the usual words we often use to describe our feelings. Following the usual word are more descriptive, precise words that can be used, in addition to the usual word, to pinpoint exactly what you feel.
GOOD: Calm, peaceful, at ease, comfortable, please, encouraged, clever, surprised, content, quiet, certain, relaxed, serene, free and easy, bright, blessed, reassured.
HAPPY: Great, blessed, gay, joyous, lucky, fortunate, delighted, overjoyed, gleeful, thankful, important, festive, ecstatic, satisfied, glad cheerful, sunny, merry, elated, jubilant.
ALIVE: playful, courageous, energetic, liberated, optimistic, provocative, impulsive, free, frisky, animated, spirited, thrilled, wonderful.
OPEN: understanding, confident, reliable, easy, amazed, free sympathetic, interested, satisfied, receptive, accepting, kind.
LOVE: loving, considerate, affectionate, sensitive, tender, devoted, attracted, passionate, admiration, warm, touched, sympathy, close, loved, comforted, drawn toward.
INTERESTED: concerned, affected, fascinated, intrigued, absorbed, inquisitive, nosy, snoopy, engrossed, curious.
POSITIVE: eager, keen, earnest, intent, anxious, inspired, determined, excited, enthusiastic, bold, brave, daring, challenged, optimistic, re-enforced, confident, hopeful.
STRONG: impulsive, free, sure, certain, rebellious, unique, dynamic, tenacious, hardy, secure.
ANGRY: irritated, enraged, hostile, insulting, sore, annoyed, upset, hateful, unpleasant, offensive, bitter, aggressive, resentful, inflamed, provoked, incensed, infuriated, cross, worked up, boiling, fuming, indignant.
DEPRESSED: lousy, disappointed, discouraged, ashamed, powerless, diminished, guilty, dissatisfied, miserable, detestable, repugnant, despicable, disgusting, abominable, terrible, in despair, sulky, bad, a sense of loss.
CONFUSED: upset doubtful, uncertain, indecisive, perplexed, embarrassed, hesitant, shy, stupefied, disillusioned, unbelieving, skeptical, distrustful, misgiving, lost, unsure, uneasy, pessimistic, tense.
HELPLESS: incapable, alone, paralyzed, fatigued, useless, inferior, vulnerable, empty, forced, hesitant, despair, frustrated, distressed, woeful, pathetic, tragic, in a stew, dominated.
INDIFFERENT: insensitive, dull, nonchalant, neutral, reserved, weary, bored, preoccupied, cold, disinterested, lifeless.
AFRAID: fearful, terrified, suspicious, anxious, alarmed, panic, nervous, scared, worried, frightened, timid, shaky, restless, doubtful, threatened, cowardly, quaking, menaced, wary.
HURT: crushed, tormented, deprived, pained, tortured, dejected, rejected, injured, offended, afflicted, aching, victimized, heartbroken, agonized, appalled, humiliated, wronged, alienated.
SAD: tearful, sorrowful, pained, grief, anguish, desolate, desperate, pessimistic, unhappy, lonely, grieved, mournful, dismayed.
Luke 6:45 says, "…out of the abundance of the heart, the mouth speaks." Some people, particularly Christians, may think that it's wrong to "confess" negative feelings. They believe that they are speaking negative things into existence. But the psalmist knew the value of expressing what he felt, even if it was perceived as negative. He said, "I am laid low in the dust; preserve my life according to your word. I gave an account of my ways and you answered me." The psalmist confessed that he was feeling low, as low as dirt! And after he confessed just how low he was feeling, he made a wonderful discovery. God heard him and God answered him!
Consider this: if you're already experiencing negative feelings, perhaps saying these feelings and getting them out in the open is necessary so that you can replace those negative feelings with positive feelings. Saying what you feel is not a sin. Confession is good for the soul. So go ahead, if you're really not feeling the holiday season because you're going through a hard time, say what you feel. Use your words.
******************************
No written portion of any article may be shared without giving credit to the author.
Copyright © 2015 by Kanisha L. Adkins.
P.O. Box 28483 Henrico, VA 23228 – phone 202-854-1963 – email: info@kanishaladkins.com
Follow me on twitter @kanishaladkins
Share This: