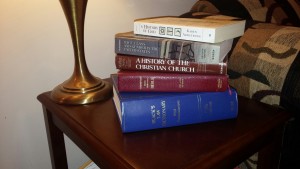 Just 80 more days 'til Christmas. That may seem like a lot of time. But for many, those days are already being filled with plans. Plans for who will host dinner and who will be invited to dinner, what's on the menu, who will cook what, what presents to buy for the gift exchange at work, what to wear to the office party, whether to buy a new outfit, whether to shop online for clothes, toys and other gifts or go to brick and mortar stores, whether to drive or fly to grandma's and pa-pa's house… Employers and employees are already thinking about closing out the year's business and taking vacation days during the holiday. Parents who can't take vacation are already thinking about childcare for their minor children while schools are closed.
Pastors and preachers are already thinking about the sermonic messages they will preach on the Sunday before Christmas (even though they still have at least 10 sermons to preach before that day). Choirs are busy rehearsing Christmas Cantatas and Handel's Messiah. Sunday schools and children's church are busy rehearsing plays. Club owners, party throwers and party goers have already started placing their orders and stocking up on "adult beverages" to get the party started right.
80 days won't last long, especially since every-day-life-as-usual has to be lived, even while getting ready for those few days at the end of December. It's enough to drive a sane person crazy. And while most people won't actually go crazy, more than likely, as a result of the anticipation of the busy-ness of the holiday season, what will happen, and may have already started to happen, is that many people will experience a sadness that goes beyond just feeling down. Many people, even people of faith, will experience depression during this season of joy, making Christmas not so merry. The first step in addressing the "holiday blues" (which some people have already begun to experience) is to educate yourself on what depression is, what causes it, and how to recognize it.
What is depression?
Depression is a serious mental AND medical illness that negatively affects how we feel, the way we think and how we act. It may start suddenly or build up over a period of weeks, months, or years. Who gets depressed? Many, many people. Men, women and children of all races, colors, ethnicities, sexual orientations and religions. What causes depression? Biological factors: Chemical imbalances in the brain and biological vulnerability. Psychological factors: Mental or thought processes meaning how we think about things; Psychological tendencies such as low self-esteem and pessimism. Social and environmental factors: Academic demands; balancing school, work, family and social life; Financial responsibilities or worries; Social isolation; Major loss such as the loss of a loved one including a family pet or loss of income; Chronic illness such as asthma, cancer, diabetes or addiction; Work stress; Family crisis and concerns; Unwelcome and welcome life changes; Alcohol and drug use, including both legal and illegal.
What are some symptoms of depression?
There are different forms of depression with different combinations of the following symptoms. Physical: Sleep disturbances-insomnia, oversleeping, waking much earlier than usual; Changes in appetite or eating much more or much less; Decreased energy or fatigue; Headaches, stomach aches, digestive problems or other physical symptoms that are not explained by other physical conditions or do not respond to treatment. Behavioral/Attitude: Loss of interest or pleasure in activities that were once enjoyed, such as going out with friends, hobbies, sports, sex, food, etc.; Difficulty concentrating, remembering, or making decisions; Neglecting responsibilities or personal appearance. Emotional: Persistent sad or "empty" mood, lasting two or more weeks; Crying "for no reason"; Feeling hopeless, helpless, guilty or worthless; Feeling irritable, agitated or anxious; Thoughts of death or suicide.
People of faith, regardless of religious affiliation or denomination, are just as susceptible to becoming depressed as non-believers and those who do not ascribe to any religion. In fact, people of faith, particularly Christians, may be more prone to experiencing depression because this is supposed to be a season of joy: Christ has come, is come and will come! For what reason could Christians and other followers of God possibly be sad, you ask? For all the same reasons as those who don't believe. LIFE!
Consider Elijah, that prophet and mighty man of God, who called down fire on Mount Carmel. After that mighty act of faith and God honoring his prayer, just days later these are the words that came from Elijah's lips: ""I have had enough, Lord," he said. "Take my life; I am no better than my ancestors." Then he lay down under a bush and fell asleep." (I Kings 19:4-5) Elijah was experiencing depression: feelings of hopelessness and worthlessness and thoughts of and wanting to die. Elijah was depressed! But the good news is that help was available.
"All at once an angel touched him and said, "Get up and eat." He looked around, and there by his head was some bread baked over hot coals, and a jar of water. He ate and drank and then lay down again. The angel of the Lord came back a second time and touched him and said, "Get up and eat, for the journey is too much for you." So he got up and ate and drank. Strengthened by that food, he traveled forty days and forty nights…" (I Kings 19:5-8)
If you are experiencing depression, these verses offer suggestions on a few of the ways to treat those feelings.  What is the treatment for depression? For starters, SELF-CARE including: Healthy eating; exercise; sleep; rest; and relaxation.
Pay attention to and honor your feelings. Sad feelings can be a signal that something is wrong. Remember that feelings are a gift from God, even feelings of sadness. Feelings should always draw us closer to God, the giver of every good and perfect gift. (James 1:17) And so above all, when feelings of sadness turn to depression, remember to make prayer and meditation a key component of your self-help.
Next Week: Depression During The Holidays, Part Two: Use Your Words

Learning the Language of Depression and More Helpful Solutions
Originally written and posted: October 5, 2015
*******************************************
No written portion of any article may be shared without giving credit to the author.
Copyright © 2015 by Kanisha L. Adkins.
P.O. Box 28483 Henrico, VA 23228 – phone 202-854-1963 – email: info@kanishaladkins.com
Follow me on twitter @kanishaladkins
Share This: