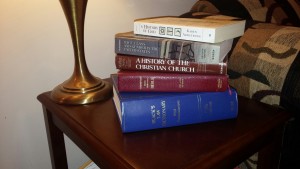 Let's just jump right in. Many people reading this blog are tired of or know someone who is tired of church! This is not to be confused with being tired of God. God and church are two different things. People love God. In fact, if it wasn't for their love of God, they would have given up on "church" a long time ago. Still, they're tired of church. And this is not to be confused with The Church: that invisible and universal, timeless and eternal "body of Christ", group of believers who have professed Christ as God's son and their Savior and Lord. People are not tired of The Church with a big C, they're tired of church with a little c.
I'm not making this up. And I'm not speaking solely out of my own personal frustrations. I have hard facts, first-hand knowledge, that people are tired of church. These hard facts are conversations with people who have said point blank, "I'm tired of church" or "I'm all churched out!"
You need more facts? Here they are: Look around your church over the course of the next month or so and you'll notice some people are missing. The Baby Boomers (ages 51 to 69, give or take a year or two) and Generation X (ages 35 to 50, give or take a year or two) who have been raised in the church, who have been faithful in talent, time and tithe are taking sabbaticals from being overworked, uninspired and unmotivated (not to mention being under and unappreciated). These long time church members who usually show up every time the doors of the church open are going on hiatus from that Sunday morning same old, same old.  They're finding reasons and excuses to not show up on Sunday morning.
These Old Faithfuls, as I'll call them, have grown tired of routine and scripted Sunday morning worship and weekly activities and they're slowing stepping away. Sometimes it's not apparent because they're still showing up but just not as frequently as before. They're still showing up, but they're not as active or as vocal as before. And little by little, one service at a time, one hymn at a time, one collection plate at a time, "Old Faithful" is inching towards the door and they're just one pew away from being one of The Dones.
The Dones is a phrase coined by the research of Josh Packard, a sociologist at the University of Northern Colorado. The Dones are those people who are done with church. The Dones have not (I repeat, HAVE NOT) abandoned their faith, or their belief in God or God's son, Jesus, but they're 'done' with church as usual. The Dones may attend a service every now and then. After all, community and connection are still important to them. But don't look for them every week singing a rousing chorus of "give me that old time religion." It may have been good for their dear mother or father, and it may have been good for the Hebrew children, and Paul and Silas, but don't get it twisted…it's NOT good enough for The Dones. They're done with that!
And as Old Faithful inches closer and closer to becoming part of The Dones and giving less and less time inside the four walls of the church, along with Old Faithful goes a big portion of the church's talent and tithe because Millennials (ages 18 to 34, give or take a year or two) aren't waiting in line to be pew members. They aren't interested in being "seat-fillers", like people who are hired to attend television, theatre and movie award shows so that the house looks packed. Millennials (and those whom I'll call millennial-minded) want to be involved and active. They love good music, preaching and teaching but they'd rather spend half of the day doing service and outreach projects and not half of the day being benchwarmers. To borrow from the words of Thom Schultz of the Group Publishing and Lifetree Café, like The Dones, The Millennials don't want to "plop, pray and pay. They want to play. They want to participate."
And then there is Generation Z also known as "Generation V" (for virtual), the "Internet Generation", or the "Google Generation". These are the 'tweens and teens who are still dependent on adults to provide for their every need. These are the children who often sit through church services and activities that are geared towards adults and they either end up falling asleep or playing with electronic games. And before the Google Generation becomes part of the Millennials and they decide that it's more beneficial to get a job and work rather than worship on Sundays, church as usual has got to change.
Corporate worship is important and I (for the most part) enjoy it. But attending church services and activities shouldn't be the highlight of our existence as Christians. And attending church services and activities shouldn't be the requirement that people have to meet in order to prove that they are "living right".
Years ago a friend of mine asked the question: "why are we [the same people who've been coming to bible study for 20 years] still coming to bible study and still talking about the same thing?  At some point we should be going out and putting into action what we've learned!" I think she has a valid point. Church should be a place where we enter to worship and depart to serve.
The gospel writer Matthew said that after Jesus' death and resurrection, the disciples went to Galilee, just as Jesus had instructed them. And "when they saw him, they worshiped him;… Then Jesus came to them and said, "All authority in heaven and on earth has been given to me. Therefore go and make disciples of all nations, baptizing them in the name of the Father and of the Son and of the Holy Spirit, and teaching them to obey everything I have commanded you. And surely I am with you always, to the very end of the age." (Matt. 28:17-20)
This is the Great Commission! It's short and it's sweet. It tells us that when people see Jesus, they will worship! And after we have worshiped, we are instructed to GO! GO into the world! GO and baptize in the name of the Father, Son and Holy Spirit! GO and teach people everything that Jesus taught.
The world has changed! And yet, some of our churches are doing the same things they've done for the last 20, 50, 75 and even 100 years. We can no longer continue to do church as usual. We can't afford it! It's time for us to stop doing church and it's time for us to start being the CHURCH! Worship extends beyond the one, two or three hours that we spend in church on the Sabbath. In fact, the magnitude, the demonstration and the evidence of our worship should be what we do after the benediction…on our jobs, in our homes, in our communities. Instead of putting so much emphasis on "coming to church", perhaps it's time for us to give the benediction, close the doors of the church and GO!
…And by the way…relax…Jesus promised that He'd be with us.
**********************************************
Sources: *https://baptistnews.com/culture/item/29535-new-term-recognizes-christians-who-are-simply-done-with-church
**http://www.churchleaders.com/outreach-missions/outreach-missions-articles/177144-thom-schultz-rise-of-the-done-with-church-population.html
No written portion of this article may be used without obtaining written permission from the author.
Copyright © 2016 by Kanisha L. Adkins.
P.O. Box 28483 Henrico, VA 23228 – phone 202-854-1963 – email: info@kanishaladkins.com
Follow me on twitter @kanishaladkins
Share This: